Company overview
AW Bell was established in 1952 as a family-owned patternmaking business. Building on this foundation, AW Bell's vision is to be the most innovative and customer-focused supplier of quality casting solutions globally.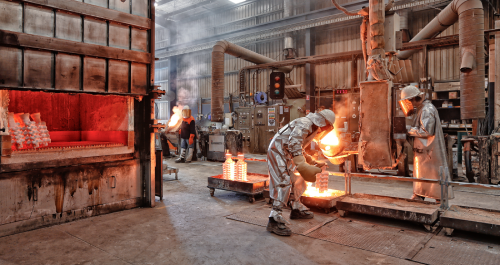 In partnership with the CSIRO, AW Bell developed its signature aluminium casting process —Aluminium Billet Equipment (ABE)— a competitive regional and international offering developed in their facilities in Victoria.
Since 2007, AW Bell has been a proud defence partner and continues to work across many sectors. Today, AW Bell is renowned globally for producing complex metal products with high mechanical properties for industries with demanding standards including defence, aerospace and biomedical. It employs more than 80 people and has over 50 companies in its supply chain.
The company plans to set up Australia's first titanium casting facility by 2025 to support the Guided Weapon and Explosive Ordnance Enterprise as well as to service Australian aerospace and biomedical customers.
Find out more about AW Bell.
Major projects
Partnered with the Department of Defence on the Joint Strike Fighter Division since 2007, AW Bell remains the only approved casting supplier of F-35 electronic warfare countermeasure magazines worldwide
Global defence clients include Raytheon, Northrop Grumman and Thales with further key defence industry expansion opportunities with Lockheed Martin and Rheinmetall
Support or provision for other capabilities including Bushmaster, Hawkei, Boxer Combat Reconnaissance Vehicle
Industry success story
Realising the need to diversify into other markets with the automotive sector depleting, in 2007 AW Bell commenced its transition to the defence and aerospace markets. The home-grown business is now proud to 'turn ideas into metal' for the defence and aerospace market.
On winning the Victorian Governor's award in 2021, CEO Sam Bell acknowledged the value of government support throughout the company's extended history:
"The transition into aerospace and defence industries required a $9 million investment in new technologies and capabilities over the last 10 years. Government assistance and support has been instrumental in making this transition."
Diversification into aerospace and defence industries has seen AW Bell's related revenues increase steadily year on year – 70 per cent from the 2016/17 financial year to the 2021/22 financial year.
AW Bell was one of the first participants in the Victorian Government's Smart Enough Factory Program. The program supports participating businesses to adopt new digital technologies to help improve operations. Participation in the program led AW Bell to change the operating time and rotation of its equipment, reducing the company's energy consumption.
AW Bell's family-owned factory of 10,000 m2 hosts a 284 kW solar power system which provides 20 per cent of the energy needed for manufacturing. Using the program's digital analysis of peak energy use, the company was able to identify that:
"a substantial amount of electricity waste in our use of these machines that was negatively impacting our environmental footprint, our productivity and overall business performance."
AW Bell is now discovering the most effective ways of utilising the equipment and hopes to reduce its energy consumption by over 68,000 kW annually.
Products and services
AW Bell offers:
casting, from prototyping to production in investment, sand & ABE
machining: turnkey product solutions, production tooling
assembly, painting and surface treatments
design and engineering support for product development
automation & robotics aftercast equipment
future titanium investment casting facility.
Awards
2021: Australian Export of the Year award
2021: Governor of Victoria Export Award (GOVEA) for Manufacturing
2019: Finalist, Most Innovative Manufacturing Company
2016: Governor of Victoria Export Award (GOVEA) for Manufacturing
2015: Australian Industry Research Award
2014: Victorian Professional Engineer of the Year
2013: Manufacturer of the Year (Medium)
2011: Inducted into the Victorian Manufacturing Hall of Fame.
Accreditations
AS9100
ISO
NIST
Future DISP certification.
Page last updated 03 Oct 2022