Company overview
Established in 1969, Marand is a precision engineering firm that designs and manufactures complex equipment, series production of platform structures, tooling and bespoke solutions for the defence, aerospace, automotive, rail, and energy industries. It has more than 150 companies in its supply chain.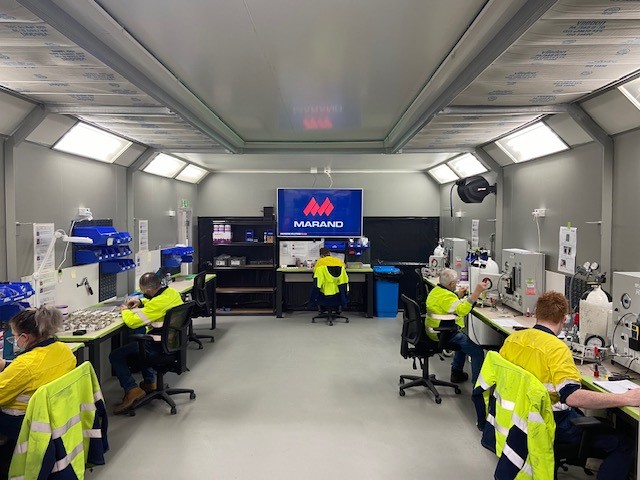 With operations in Melbourne and Geelong, Marand is one of Australia's strongest players in defence and advanced manufacturing. It designs and manufactures products for multinational prime contractors and their original equipment manufacturers including:
Lockheed Martin
Boeing
BAE Systems
BHP
Rio Tinto.
Marand's versatility in developing and manufacturing a range of quality engineered products is key to its competitive advantage. The company also plays a significant role in national security and commercialising Victoria's manufacturing expertise. Marand is a critical piece of Australia's sovereign manufacturing capability.
Find out more about Marand.
Major Projects
Rheinmetall — roof module for LYNX Infantry Fighting Vehicle. The Hungarian Armed Forces has submitted the first global order for 200 of these vehicles.
Pearson Engineering — Australian production of prototype mechanised land forces equipment.
F-35 program — AIR 6000 Phase 2A/B New Air Combat Capability Facilities project.
Success story
Marand's pandemic response:
With a long history of innovation, Marand adapted quickly to produce medical and safety equipment and assist in the national response to the pandemic. Rohan Stocker, CEO at Marand is proud of the company's role in supporting Victoria's and Australia's response to COVID-19.
Marand sees itself as contributing to the community beyond its role as an engineering and manufacturing organisation, with an interest in sovereign safety and a global commercial agenda. Rohan said Marand was "thrilled to have been able to step up and help the national fight against coronavirus."
The broader story
Marand is appreciative of government support in providing valuable opportunities for the company. In 2012, government assistance with capital expenditure and F-35-related training and development was instrumental in expanding the company's capabilities and establishing Marand as a globally valuable player in the defence industry. Together with the Victorian Government's contribution of $5 million and $5 million from the Commonwealth Government, Marand injected a further $10 million, enabling the company to build an export business that will well exceed $1 billion over the life of the program.
More recently, Marand accessed the $50,000 incubator starter kit as part of its $3 million US market entry investment. These investments and collaboration opportunities have been instrumental in Marand's growth and success.
Products and services
Engineering
Mechanical, electrical, software, hydraulic, pneumatic, automation & process engineering disciplines
Highly trained production staff & prototyping capability
Service support from conception to finished product
Customisation
Solutions include:

tooling & jigs
special purpose equipment
complete workshops
manufacturing production lines
complete maintenance facilities
automation including machines
robots & AGV
modules & special assemblies
high efficiency electric motors & generators.
Manufacturing
Large scale & diverse capability
Series production of platform structures
Fabrication / Welding
Small & large 5-axis machining, complex assembly, electrical wiring, hydraulic & pneumatic assembly, painting, installation & commissioning
Dimensional metrology laboratory to provide final quality control & inspection
NATA-accredited certification of dimensional inspection with guaranteed accuracy.
Sustainment
Service engineers available in Victoria, South Australia, Western Australia
International operations in the USA and the UK
Ongoing contracts across Australia & in Japan, the UK & the US.
Awards
2020: Governor of Victoria Export Awards (GOVEA) Export Champion
2012: Victorian Manufacturer of the Year
2011: Lockheed Martin 100% Quality & Delivery Performance Award.
See the full list of Marand accreditations and awards
Accreditations
ISO9001 (Quality)
AS9100
ISO14001 (Environmental)
ISO17025 (Measurement).
Page last updated 26 May 2023